If you're new to cleaning and unsure where to begin, you must prepare yourself to handle the basics. Besides having a cleaning schedule, you must also know the tools and materials required for a good clean-up. Choose the ones that save up your time and energy, as there are many options to choose from. We've mentioned some equipment and materials that we think can help you get started with the process.
Equipment You'll Need
For starters, you need tools like a bucket, dust mop, vacuum, spray bottle, toilet brush, duster, broom, step ladder.
But! How to carry them all around the house?
Don't forget a caddy!
Keep all your cleaning tools gathered together in a caddy so you can clean efficiently. You can also get a tote or bucket for this purpose. It gets the job done when everything you need is placed together in something portable. Hence, while you spot some dirt, you won't have to search for tools to clean it right away. Moreover, it makes it easier when you have multiple stories home or you prefer cleaning in different rounds.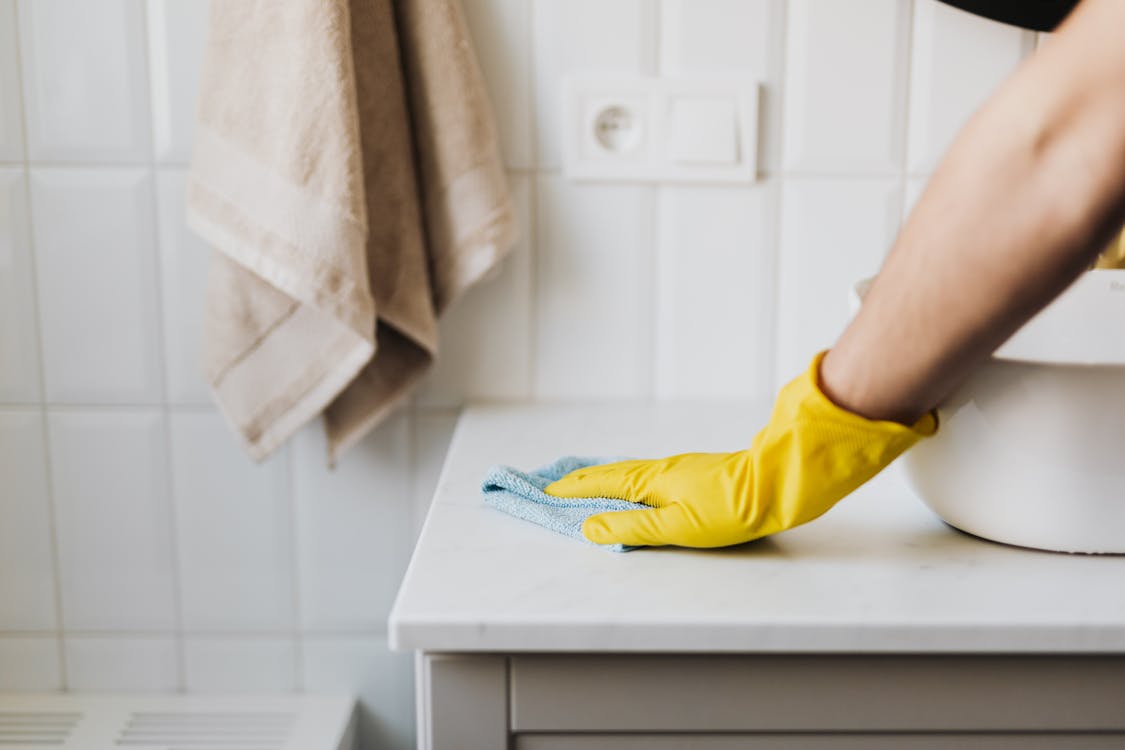 Materials You'll Need
The choice of cleaning materials available in the market may overwhelm you. So, whether you're looking to complete your cleaning kit or getting started in a new space, you'll need some essentials. We suggest building your house cleaning kit collection slowly as you spend in some and borrow others. To help you in the process, we've sorted a list of essentials that we believe no home cleaning kit should be without.
A Classic Good Sponge. You can never go wrong with a good sponge with an abrasive side to handle any grimy, dirty surface. There is a huge variety to choose from within this category. If sponges are not your thing, opt for sponge clothes that work just as well.
A Squeegee. This can be an all-in-one tool for your glass cleaning needs. While it helps keep your shower mold- and mildew-free, it also helps clean window and terrace glass. Replace it once it starts leaving streaks.
A Bucket and Spray Bottle.Get a big enough bucket that can carry cleaning supplies and be used for other purposes such as mopping. They're available in every hardware store. Another essential for sure is a spray bottle, or six of them, as there are never enough of them. Used for anything and everything that needs a little rinse, a spray bottle can save up a lot of time.
Cleaning Out Your Home?
Junk Daddy offers professional junk removal services in Orlando and other areas of Florida. Their services are catered for domestic as well as commercial spaces. Their expert team also provides amazing clean-out services in Orlando at affordable rates. Get in touch with them for more info.